Bundesliga International has partnered with Next Media since 2020 and the new five-year agreement will now conclude at the end of the 2027-28 season
Next Media is the home of the Bundesliga in Vietnam, delivering more than 300 top-flight German football matches per season
Next Media and VMG Media JSC will join forces to further expand Bundesliga's reach and popularity in Vietnam
Bundesliga International and Next Media Solutions JSC (Next Media) have announced an early renewal of their successful partnership with a new five-year agreement, effective from the start of the 2023-24 season. The extension was officially revealed at a press conference held in Hanoi on Monday.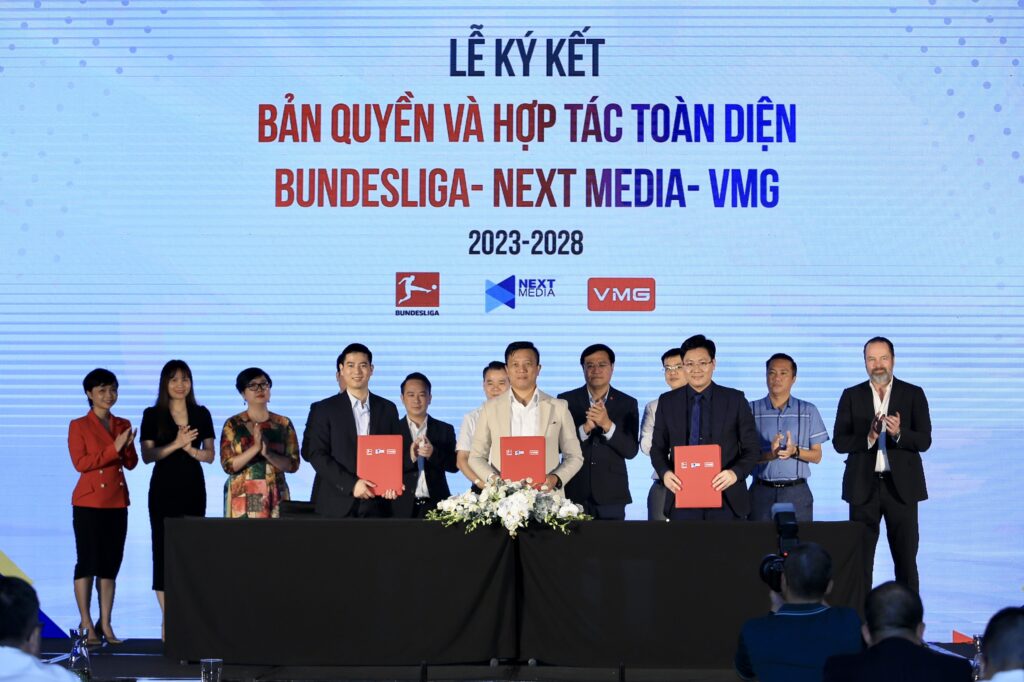 Vietnam's number one sports marketing and media company, Next Media retains exclusive control over both the Bundesliga and Bundesliga 2 broadcast rights, as well as the German Supercup, relegation play-off matches and additional on-demand shoulder programming.
Having originally agreed a five-season deal in 2020, the previous deal was scheduled to conclude at the end of the 2024-25 season. However, after exceptional on-screen results in the last three seasons as well as a number of successful joint activations both in Vietnam and in Germany, a fitting mutual decision was made, meaning that the collaboration will run for an additional three years, concluding at the end of the 2027-28 season.
With an astounding 500% increase in viewership since the 2019-20 season, the partnership has proven to be an unparalleled success. This remarkable growth underscores the shared vision and commitment to delivering high-quality football content.
As part of the prolongation, Next Media will also work directly with VMG Media JSC (VMG), a market leader in livestreaming football and sports to fans throughout Vietnam. Both parties will work together with Bundesliga International to sublicense the rights to broadcasters, ensuring the best value and reach across Vietnam.
Furthermore, both sides are committed to continuing working together for the development of football at all levels throughout Vietnam. In March 2022, the DFL Deutsche Fußball Liga signed a Memorandum of Understanding (MoU) with the Vietnam Football Federation (VFF) and Vietnam Professional Football (VPF), centred around improving the technical and sporting expertise, advancing league and club structures, as well as developing the football fan bases and culture in Vietnam. Last November, Bundesliga International supported Next Media efforts to organise the friendly match between Borussia Dortmund against Vietnam National Team in Hanoi to great success, with the game broadcast nationwide by VTV to over 1 million TV households and over 3 million watching on Facebook and YouTube.
In addition, and in cooperation with Next Media, the organisers launched the Bundesliga Youth Incubator Project, a programme in which promising young talents from Vietnam's national youth teams came to train for several weeks with the youth departments at Borussia Dortmund, Eintracht Frankfurt, 1. FC Köln and Borussia Mönchengladbach. The youth development project attracted strong media and public interest, with extensive nationwide media coverage generating over 15 million impressions. The success of the Youth Incubator Project has paved the way for future Bundesliga talent development programmes in Asia, including an expanded "Bundesliga Dream Vietnam" project for the upcoming 2023-24 season.
Bundesliga International Chief Marketing Officer Peer Naubert said: "When we sign agreements with our broadcasters, our intention is that it will be a long-term partnership based on mutual trust and respect. Prolonging our deal with Next Media is a fantastic reflection on both sides' commitment to working together, not only on the broadcast product, but as equal partners in the development of football throughout Vietnam.
"When we began three years ago, we embarked on a strategic roadmap, which we have stuck to despite the global changes we faced. Since then, our steadfast commitment to this roadmap has remained unwavering, even in the face of global challenges. This remarkable journey has seen an impressive surge in viewership numbers and culminated in the resounding success of last year's Youth Incubator Project. All signs point to continued success and we are excited for the next steps in our partnership." Nguyen Trung Kien, General Director of Next Media, said: "Following the success of the partnership, the level of cooperation between both parties will ascend to even greater heights. This partnership opens doors to innovative avenues beyond traditional broadcasting, marking a transformative phase in our joint pursuit of excellence."